Every so often I need reminders of why I blog, and oftentimes I need a source of motivation to keep me going. I want to be like Snoop-Dogg, to "keep coming up with funky-ass shit nearly every single day." Reading other blogs keeps me motivated and sometimes the discoveries made while searching through the blogosphere are often enough to keep me going for days, if not hours.



The 26 year-old behind thisfish.com is nominated for a 2005 Best Personal Weblog Award as part of the annual Bloggies awards. She's cute too. One of the comments posted on her website was obviously run through an English language translator before being posted:
I ALSO I HAVE A BLOG AND SEEING THE INTERESTING THING THAT SHE IS, SO THAT YOU DO NOT PLACE A DEVICE TO TRANSLATE IT TO SEVERAL LANGUAGES...

GREETINGS FROM MEXICO CITY!! :)
I'm fascinated by Mexico City, and so clicked on the name "Nancy Karina" and continued to peruse through her
blog
. I was knocked out by how many people consistently left comments to her posts. Apparently she is part of a ring of bloggers that, just last week, had an informal gathering in a casual restaurant/bar. Sabroson, one of the attendees, posted pictures and a summary of the gathering on his
blog
.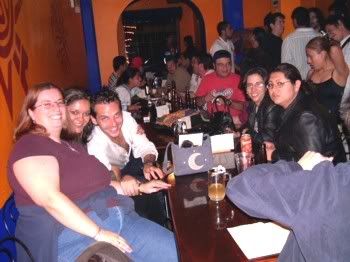 It was enough to imagine myself there, bumbling by with an awkward Spanish vocabulary but somehow communicating to these people that I feel familiar yet different from them at that same time. Knowing that these
chilangos
are into the same thing that I am even though they live so far away would make me suddenly feel so much closer to them, and I would hope they'd feel closer to me.
I'm proud to point to chums like
Milton
, my brother
Christopher
,
Clarissa
, and
Peter
that are also leaving their mark on the online "blog" scene. To me they are the motivation that is closest to home, and thus the most palpable. Links to their sites are now available on the sidebar column.